Posted on
By Aidan Raynor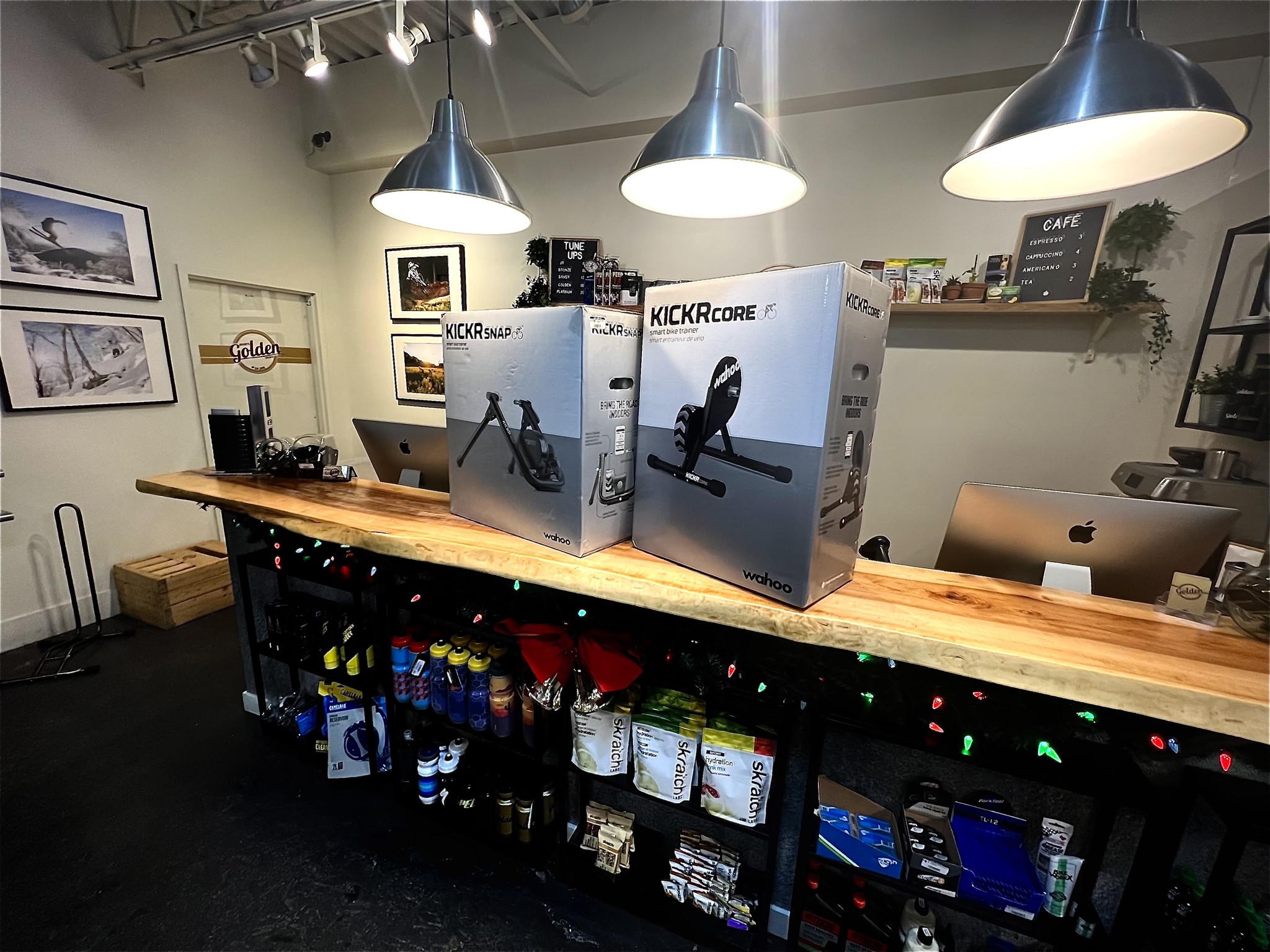 Winter is the perfect time to keep up with your fitness right into the spring. Learn everything you need to know to get yourself on a trainer this off-season.
     For most, the cycling season ends when the days grow shorter and the temperature drops down into the single digits but it doesn't have to be this way. With an indoor trainer get yourself on the bike all winter long. The indoor training scene has seen a major face lift in the last few years thanks to online training platforms like Zwift who have made it easier to connect with your riding friends throughout the winter months. Zwift is an indoor training platform that allows you to ride with groups, race, compete interval workouts all on courses designed after either real world championship courses or familiar city parks like Central Park with a little twist. They market themselves as a cycling video game you download on your computer that can connect to your trainer. So far Zwift has taken over the indoor cycling scene so don't miss out, here at Golden Sports we have plenty of different smart trainer options for you to choose from to keep up with your training through out the long cold nights of winter. 
Wheel-On Trainers
     Wheel-On trainers are a great option if you do not want to break the bank when looking for an indoor cycling option. With wheel-on trainers there is no need to bother with cassettes or taking your wheel off, you just clip your rear axle at quick release into the trainer and off you go. Also, the wheel-on trainer can be a great option for those who might ride more than one bike indoors. They are universal to most types of bikes. Although you will need a trainer tire as the rear tire sees and abnormal amount of friction you will need a tire that will last you all winter before burning out.
     We recommend the Wahoo Kickr Snap Smart Trainer. This trainer is the perfect entry-level, wheel-on smart trainer. The Kickr Snap creates the same resistance as riding on the road with their legendary flywheel technology. The Snap has many software training options from the Wahoo STSTM to Zwift or Trainer Road. With the Kickr Snap we recommend using a trainer quick release as the trainer mounts can be quite abrasive on quick releases.
Direct Drive Trainers
     Direct drive trainers take the place of the back wheel on the bike, eliminating the need for another tire or trainer quick release. These trainers are often found to be quieter than wheel-on trainers. They are also more stable allowing for the rider to feel comfortable to put more power through the bike as well as feeling more secure while mounting and dismounting. For people riding multiple times a week indoors this would be the type of trainer that we recommend, with its more secure base and attachment to the bike anyone who is looking to do interval training or racing indoors should steer towards the direct drive options.
     Wahoo makes two direct drive trainer the Kickr Core Trainer and the Kickr Power Trainer V5. The Kickr Core is their entry level direct drive trainer delivering a realistic and quiet indoor training experience by using the proven flywheel technology. This trainer has the capability to connect with your personal device for online training software but the connection can sometimes be harder to make as it has less effective bluetooth connections than other models.
     The Kickr Power V5 is their best direct drive trainer providing the more realistic ride feel with the most precise power data on the market. With the new Kickr Axis action feet and carbon steel body it is the most sturdy trainer in their line up making sure you never feel any rocking while you are going all out for the win racing or completing the last interval in the "Crit Crusher" workout on Zwift. The Kickr Power includes three simultaneously Bluetooth connections for a trouble-free start to all your workouts.
Indoor Training Accessories
     To make sure your indoor training experience is positive one here are some accessories you should look at. When crushing the kilometres inside it can get pretty hot so we'd recommend a good fan and a floor mat. Wahoo makes their Trainer Floor Mat that features a water resistant and anti-slip material to make sure that your trainer stays in place no matter how hard you go during your workout. They also made the mat super thick and noise insulating so you're family can sleep in while you go for those early morning training rides. Wahoo also makes the Kickr Climb, an indoor grade simulator designed to work with all the Kickr Smart Trainers from 2017. When paired to your trainer and third party training app it will adjust the incline of the bike to match the climbs and descents of whatever course you are riding.
     If you have any questions about indoor cycling feel free to stop by the shop to ask. We all have experience with indoor training and would love to help with any questions you might have.